---
"If you're a supporter of Death Penalty Focus, it's probably safe to say that you think the idea of executing people for drug crimes is wrong, in a moral or ethical sense, but it should also be pointed out that it's wrong in a 'policy' sense."
Last month, the 45th President of the United States made headlines by announcing that he wants to see certain facilitators of the opioid-abuse epidemic put to death. Not the executives of pharmaceutical companies, nor over-prescribing physicians, but rather the "drug dealers, traffickers, and gang members" flowing out immigrant communities. Soon thereafter, Attorney General Jeff Sessions encouraged prosecutors at the Department of Justice to seek the most punitive sentences possible in connection to drug charges, including the death penalty for suspected "drug kingpins." The idea stunned and baffled many, especially those involved in the movements to end the death penalty, prevent and dismantle mass incarceration, and promote sensible drug policy.
So … we're going to try killing our way out of opioid deaths? Where did this idea even come from?
In a March speech in New Hampshire, the president announced that the death penalty would be a primary tool in his administration's efforts to curb deaths caused by prescription painkillers such as oxycodone and controlled opioids such as heroin: "If we don't get tougher on drug dealers, we are wasting our time … and that toughness includes the death penalty." Soon after, the attorney general confirmed the president's idea in a memo encouraging prosecutors to pursue the harshest penalties possible for black-market distributors and specifically calling for the death penalty in "appropriate cases." [Pema Levy / Mother Jones]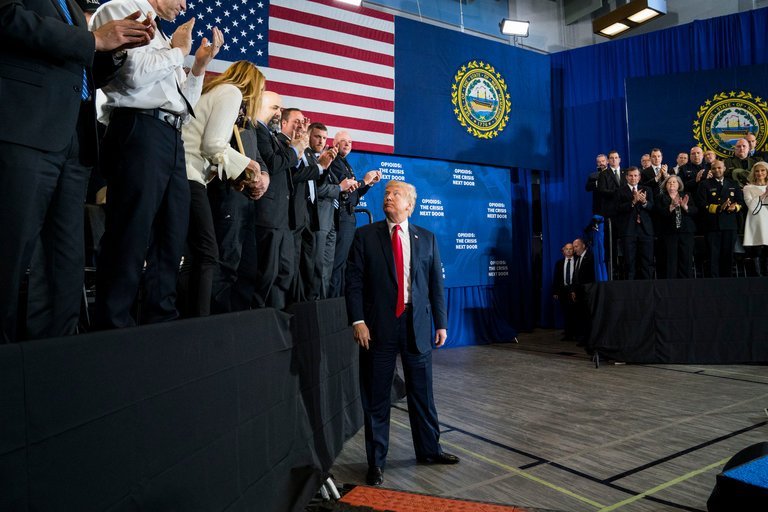 [Doug Mills / New York Times]
Aside from the policy implications of this idea (see below), it is still unclear whether the death penalty can be legally applied to drug dealers in the fashion that the administration intends. Federal law already allows for US attorneys to seek death sentences in cases when a murder takes place in the commission of a drug crime, or when people accused of drug crimes attempt to kill prosecutors or jurors. In one sense, the announcement could be seen as an attempt to focus prosecutors' attention on people who have been convicted of drug crimes and murder, perhaps to make "examples" of them. But another section of the penal code allows for federal prosecutors to seek death for high-volume drug dealers, who are defined as dealing certain amounts of controlled substances or reaching certain revenue levels in their dealings. So far no one has been prosecuted under this latter section of the law, but the Sessions memo indicates that he wants his prosecutors to try. [18 US Code § 3591(b)]
The statute was passed and signed into law during the Clinton administration, making it a contemporary of other "tough-on-crime," pro-incarceration policies such as 1994's "Violent Crime Control and Law Enforcement Act," and 1996's "Anti-Terrorism and Effective Death Penalty Act." The battery of laws passed in this era powered the growth of mass-incarceration, which had already taken root with the "War on Drugs" over the previous two decades. [Pete Wagner / Prison Policy Initiative]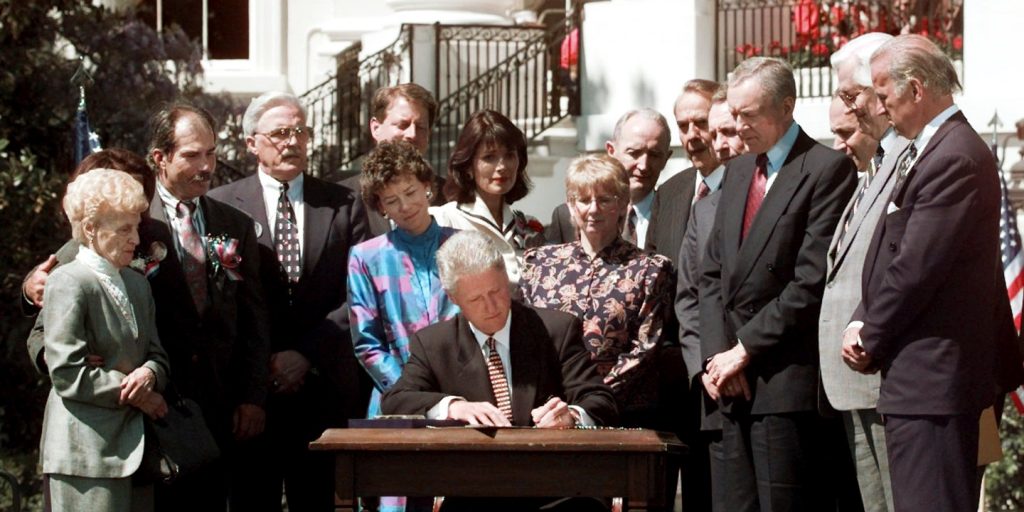 [Doug Mills / Associated Press]
No one has been prosecuted under the "drug kingpin" provision, and it is not even clear if such a sentence would survive constitutional challenges. The US Supreme Court has a track record of ruling that the death penalty is only permitted for cases in which a person intentionally kills another person (or theoretically for "crimes against the state," such as treason). There are certainly statutes that allow prosecutors to seek death for other crimes, but, as recently as 2008, the court ruled that the Eighth Amendment's ban on cruel and unusual punishment requires "a distinction between intentional first-degree murder on the one hand and non-homicide crimes against individual persons," on the other. Writing for the majority, Justice Anthony Kennedy warned that "when the law punishes by death, it risks its own sudden descent into brutality, transgressing the constitutional commitment to decency and restraint." [Kennedy vs. Louisiana, 2008]
I see the connection to previous policies, but this feels … different?
It's no secret that the attorney general and the president are fans of the death penalty, and that they see themselves as classic drug warriors. Sessions, in particular, has a long track record of supporting specific mass-incarceration and "War on Drugs" policies, so the spirit animating the announcement is hardly new. [Carl Hulse / New York Times]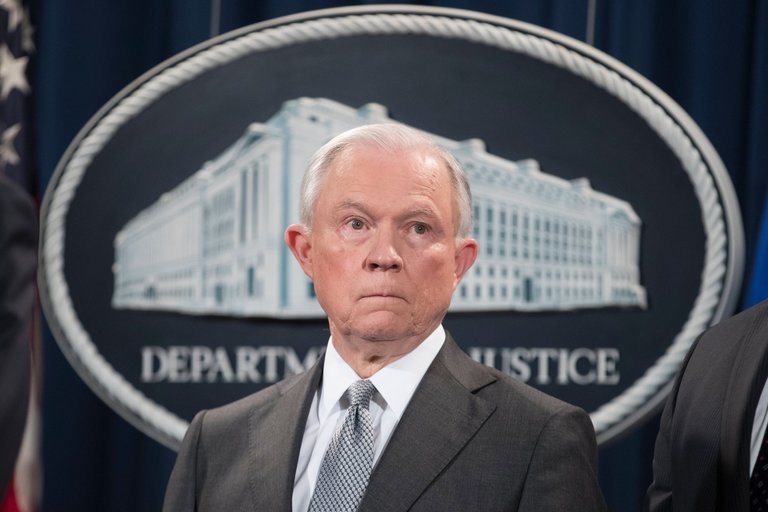 [Michael Reynolds / European Pressphoto Agency]
Moreover, in May 2017, the attorney general circulated a memo calling on federal prosecutors to seek the most serious punishment available in every case—literally every case, without distinction. He also wrote an opinion piece defending the memo and his belief that lax sentencing under the Obama administration has fueled a rise in violent crime (and yet violent-crime rates remain near historic lows). But the truth of the matter is that Sessions is hardly alone among prosecutors and other law enforcement officials in his desire to reinvigorate "War on Drugs" policies, and it can be argued that those policies never truly disappeared despite progress in certain state and local jurisdictions. Every 25 seconds, someone is arrested for a drug crime in the US, and there have already been reports of people dying from opioid withdrawal symptoms while incarcerated. And in 2016, more people were arrested for cannabis-related offenses than murder, rape, aggravated assault, and robbery combined. [Carimah Townes / Slate]
But in the weeks leading up to the announcement, reports surfaced that the president expressed admiration for the approach taken by China and certain Southeast Asian countries, such as Singapore and the Philippines. According to a senior administration official, the president "often jokes about killing drug dealers … He'll say, 'You know the Chinese and Filipinos don't have a drug problem. They just kill them.'"  [Jonathan Swan / Axios ]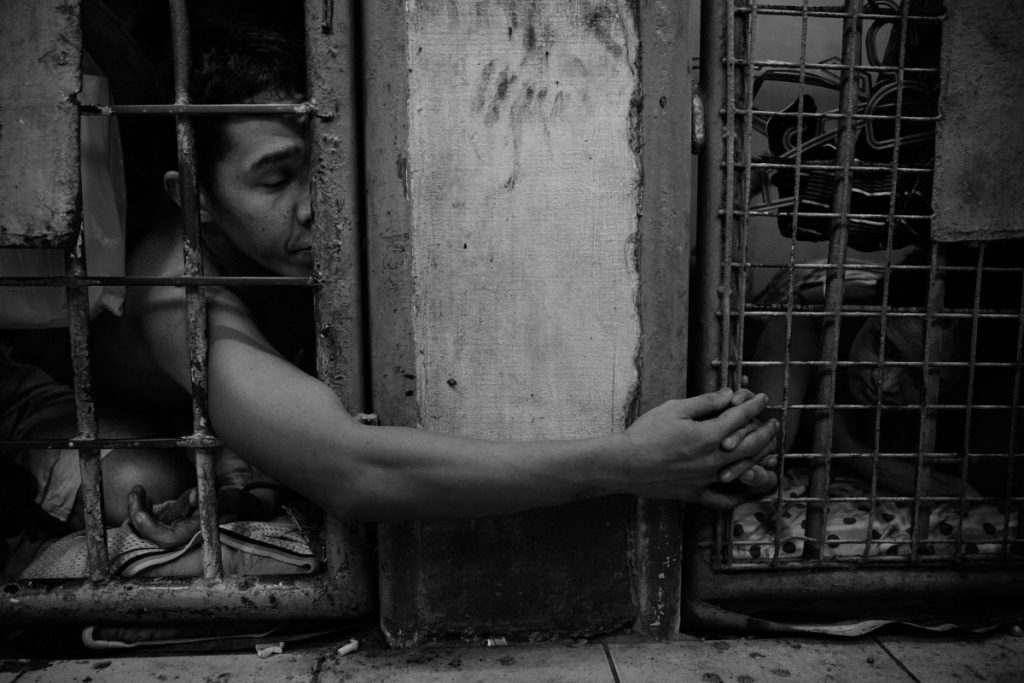 [James Nachtwey /Time]
Like Trump, several countries in this region, and a few in the Middle East, are out of step with a growing international consensus against the use of the death penalty in any situation, let alone for drug crimes. More than two thirds of countries have abolished the death penalty in practice or entirely, and killing people for drug offenses is even rarer. Only seven countries have carried out such executions in recent years: China, Iran, Saudi Arabia, Vietnam, Malaysia, Singapore, and Indonesia. [World Coalition to Abolish the Death Penalty]
Recent events in the Philippines seem to have captured Trump's imagination in particular. The country suspended judicial executions in 2006 and subsequently adopted the Second Optional Protocol on Civil and Political Rights, which requires signatory nations to end the death penalty. But during his 2016 presidential campaign, Rodrigo Duterte advocated for the reimposition of capital punishment, specifically stating a month before the election that "All of you who are into drugs, you sons of bitches, I will really kill you." Legislation to reinstate the death penalty passed the House of Representatives, but ultimately failed in the Senate. This has not stopped an extrajudicial campaign to kill suspected drug users and dealers, especially in Davao, where Duterte had previously been the mayor. It is suspected that 6,000 Filipinos were killed by Duterte-backed vigilantes in the first six months of his administration alone. [James Nachtwey / Time]
Nevertheless, Trump has expressed glowing admiration for Duterte and bragged about how good their relationship is.  [David Nakamura and Emily Rauhala / Washington Post]
Although Trump may be taking inspiration from authoritarian leaders in other countries, let's not forget that he has his own, home-grown interpretation of "law and order" that hinges—as so many of his policies do—on a racist trope of white communities becoming victimized by non-white outsiders. As everyone remembers, Trump launched his presidential campaign with a speech calling Mexicans "rapists," and he called for a ban on travel from Muslim-majority countries in the early days of his presidency. It is also well-known that in 1989 Trump placed a full-page ad in the New York Daily News calling for the execution of five teenagers of color, and that the so-called "Central Park Five" were proven innocent years later. But many may not realize that Trump still insists that he was correct about their guilt, in spite of the evidence. [Oliver Laughland / The Guardian]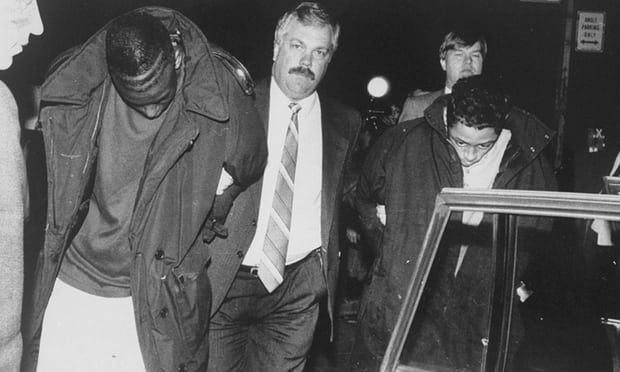 [New York Daily News Archive / NY Daily News via Getty Images]
Underlying the pretense of deterrence, demanding the death penalty for drug dealers comes from the same racialized worldview of white communities under attack as his other controversial policies. Trump has expressed sympathy for "the people that are in trouble, the people that are addicted," adding that "we're going to work with them and try to make them better." But in his speech announcing the administration's new death penalty policy, Trump blamed immigrants and sanctuary cities for the opioid epidemic: "Every day, sanctuary cities release illegal immigrants and drug dealers, traffickers, and gang members back into our communities." Notably absent from the most culpable were pharmaceutical companies and prescription-happy doctors. And it goes without saying that similar sympathy never surfaced for the people convicted of drug crimes during the original "War on Drugs," which primarily targeted people of color whether they were dealers or users. [Jamelle Bouie / Slate]
The opioid crisis IS a serious topic though. There have to be other ideas, right?
If you're a supporter of Death Penalty Focus, it's probably safe to say that you think the idea of executing people for drug crimes is wrong, in a moral or ethical sense, but it should also be pointed out that it's wrong in a "policy" sense. There is simply no good evidence that ratcheting up punishments for people involved in the black-market supply side of the problem results in less access to drugs, or reduced rates of abuse and addiction for users. Adding the death penalty to the mix may actually harm serious efforts to reverse the crisis. [Dara Lind / Vox]
A recent survey of drug policy experts showed a wide range of ideas for combating the opioid epidemic, but increasing punishments for criminal distributors (i.e. non-prescription distribution, or "drug dealers" not "doctors") found little support. Bolstering addiction-treatment strategies generated the highest degree of consensus, followed by decreasing demand through community development (i.e. there will be less incentive for abuse if people experience a better quality of life), and harm-reduction options for opioid users. Addressing the supply side ranked last in terms of consensus, and advocates focused on reducing the number of doses remaining after a patient's pain-relief needs are met, and preventing illicit distributors from importing fentanyl from factory sources abroad. [Josh Katz / The Upshot]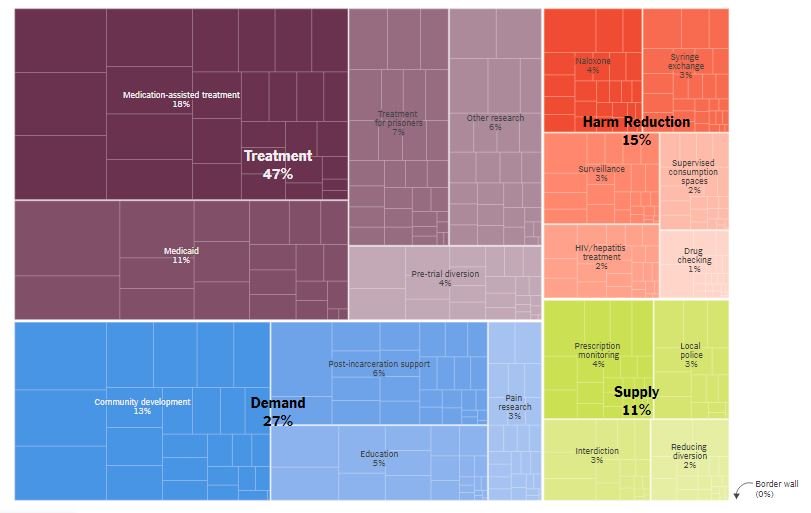 [ Josh Katz / The Upshot ]
Several cities have begun their own efforts to address the crisis, and their approaches hew more closely to the experts' advice. San Francisco, Seattle, and Philadelphia have recently adopted harm reduction strategies, most notably in the form of supervised use sites. While critics argue that supervised use programs essentially condone drug use, there is compelling evidence that such programs reduce deaths and do not harm the wellbeing of the communities in which they're adopted. [Rebecca McCray / In Justice Today]
The Trump administration's proposal to punish and kill our way out of the opioid crisis will exist in tension with local efforts at addiction treatment, harm reduction, and community development. Drug Enforcement Administration officials have already said that San Francisco, Seattle, and Philadelphia may all face legal action. [Dominic Holden / Buzzfeed]
It remains to be seen what will ultimately come of last month's announcement. But perhaps there's some encouragement to be found in the fact that a large majority of US Americans do not approve of the policy proposal. At least 71% of respondents to a recent poll say that they disapprove, including 57% of Republicans. [Quinnipiac; Death Penalty Focus]