Facts about the people on California's death row
California currently has a moratorium on its death penalty, declared by Gov. Gavin Newsom in 2019.
There are 671 (as of 1/9/23) individuals on California's death row, the largest in the Western Hemisphere.
Of those 671 650 are men, imprisoned at San Quentin State Prison in Marin County, and 21 are women, held at the Central California Women's Facility in Madera County. Age range: 20s – 90s (majority of men and women: 50 – 59 years).
Thirteen men have been executed by the state since 1978. The last execution was in 2006. The men ranged in age from 29 – 76.
Five prisoners have been found innocent and released from San Quentin's death row, the most recent in April 2018, when Vicente Benavides was released after 25 years, based on evidence of innocence.
The National Academy of Sciences estimates that at least four percent of women and men on death row are innocent. That would mean that at least 28 of California's condemned are innocent.
A 2021 Pew Poll found that only 41% of Americans believe the death penalty is applied fairly. California's death row population is a good example of the racism inherent in capital punishment. African-Americans make up 36% of California's death row while comprising only 6% of the state population; Latinos comprise 25% of the prisoners on death row and 39% of the population, and whites make up the smallest number on death row with 32%, while accounting for 35% of the general population in the state.
A study published in the Santa Clara Law Review in 2005 revealed that in California, those convicted of killing whites were more than three times as likely to be sentenced to death as those convicted of killing Black people, and more than four times more likely as those convicted of killing Latinos.
Top 5 Sentencing Counties:

LA: 219
Riverside: 89
Orange: 62
San Bernardino: 41
Alameda: 39

Race of Men and Women on CA Death Row

Approximately 68% of the men on death row are people of color

Approximately 66% of the women on death row are people of color
New death row sentences in 2022
2: (San Diego-1; Tulare-1)
Deaths CA death row 2022: 5 (Causes are pending in all 5 cases.)
Releases CA death row 2021: 0
Last execution: 1/17/2006 (Clarence Ray Allen)
Summary of Condemned Inmates Who Have Died Since 1978:

Total Deaths: 176
Total Executions: 15

Executed in California: 13
Executed in Missouri: 1 (Kelvin Malone)
Executed in Virginia: 1 (Alfredo Renaldo Prieto)

Total Non-Execution Deaths: 161

Natural Causes: 108
Suicide: 30
Other: 15
Pending: 8

(Statistics courtesy of Death Penalty Information Center and California Department of Corrections and Rehabilitation. Additional data courtesy of California Department of Corrections and Rehabilitation)
FACT 1 - The death penalty does not save money
At every stage of legal proceedings, a death penalty case is vastly more expensive to prosecute than a standard murder case. Death penalty trials are actually two trials – one to determine whether the person is guilty of capital murder, and the second to determine whether the sentence of death is appropriate for the defendant and the crime.
Death Penalty postconviction proceedings take years. All states have an avenue for appointment of counsel. Death penalty counsel – both prosecution and defense – is payed for by the taxpayers.
Death Penalty trials are not always fair and many cases are overturned. Between 1973 and 2013, one-third of those sentenced to death had their sentences overturned on appeal. Death Penalty cases consume vast amounts of county resources – court and judicial resources, law enforcement resources, experts for the prosecution and defense.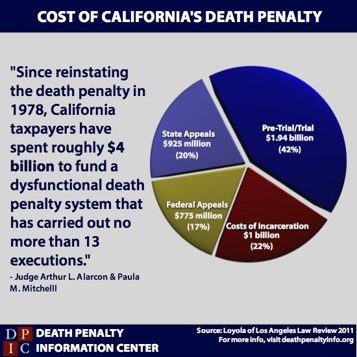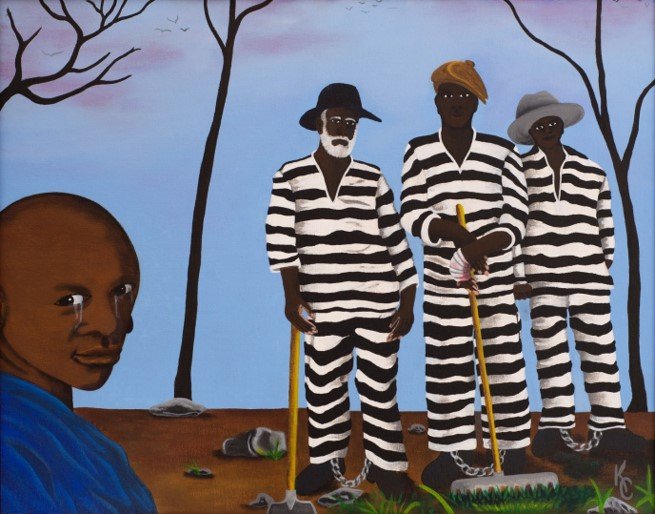 FACT 2 - The death penalty is racially biased
The death penalty is the pinnacle of racism. The death penalty is the pinnacle of racism. The death penalty is so infected with racism and bias that a fair trial is not possible.
"Since its inception, the American death penalty has been disproportionately applied, first, to enslaved Africans and African Americans, and, later to free Black people," California Governor Gavin Newsom said. (Read more). The death penalty is said to be lynching's step-child.
Fact 3 - Innocents Are Not Exempt
We know that more than 170 individuals have been released from death row for crimes they didn't commit. They and their lost years are collateral damage of the capital punishment system in this country.
It is clearly demonstrated that the death penalty prosecutions have targeted those of color, those from economically disadvantaged backgrounds, and those with mental illness or disabilities. Unable to afford quality legal representation, and unfamiliar with the justice system, our friends are often appointed unqualified and ineffective counsel.

Here is the true story of Kevin Cooper, death row inmate, San Quentin Prison.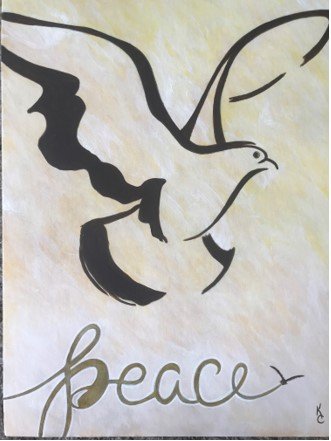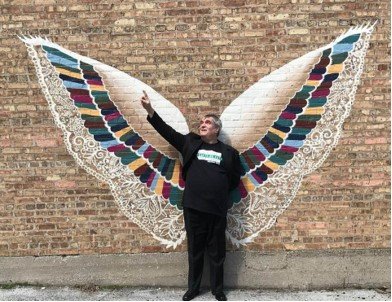 Fact 4 - The Death Penalty Does Not Provide Closure
Murder victims' families do not speak with one voice on closure. The government doesn't speak for victims's families either. William Barr, U.S. Attorney General said of the July 14, 2020 execution of Daniel Lee Lewis, "we owe it to the victims and their families to carry forward the sentence imposed by our justice system."
The family of Nancy Mueller and her daughter Sarah Powell, both killed by in 1996 Daniel Lee Lewis, strongly opposed the execution of Lewis. Mrs. Earlene Peterson, the mother and grandmother of the victims, pleaded with President Trump for clemency.  They filed papers in court to stop the execution. William Barr called their objections to Lewis's execution "frivolous". Read their story here.
Another victims' family member story is here. Watch here.
Fact 5 - The death penalty does not make communities safer.
Studies show that those who commit violent crimes (like murder) do not think about the potential consequences when acting. Further, states with the highest rates of executions also tend to have the highest rates of murder and violent crime. Conservative groups argue that tegions of the country with the most executions continue to have the highest rates of violent crime (the South). While, regions with few executions or that have repealed the death penalty have very low violent crime (the Northeast). In 2016 the murder rate in non-death penalty states was 4.49 compared to a murder rate of 5.63 in states with the death penalty. That's a 25 percent difference. 
Law enforcement groups argue that the death penalty is necessary to protect the police.  This is clearly not true.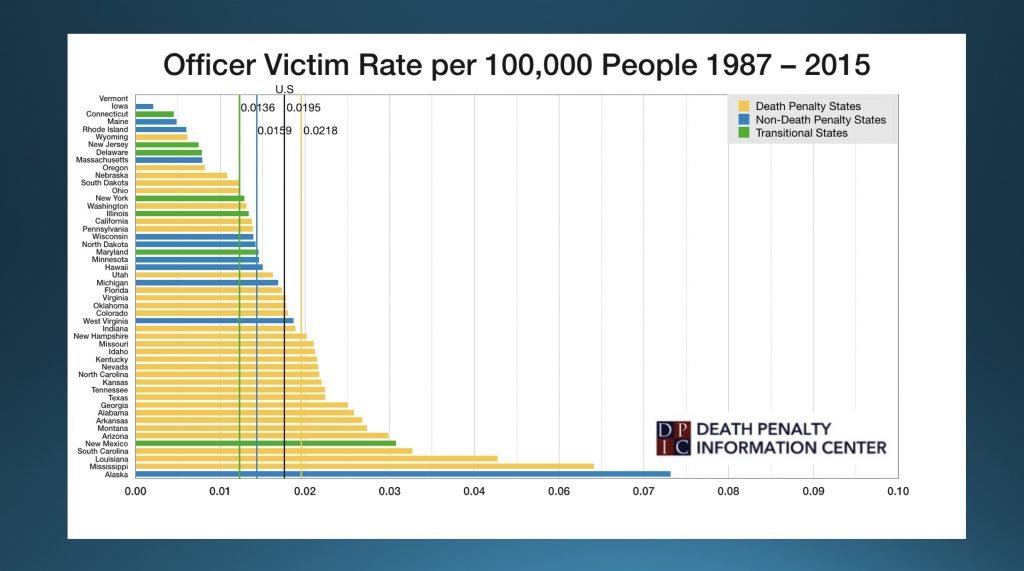 Visit Webinar #2, available here, for a discussion about the safety and deterrent effects of the Death penalty with San Francisco District Attorney Chesa Boudin and Denver District Attorney Beth McCann. 
For more statistics, read here.