"I struggle every day. Not a day goes by that I don't think about capital punishment. I just look for a good moment, and when I can find it, I treasure that moment."
It's been 40 years since Ernest (Shujaa) Graham was sentenced to death for killing a correctional officer in a state prison in Stockton, California and sent to San Quentin's death row. Five years after that, after his fourth trial in 1981, he was acquitted. But those five years left a scar on his psyche that he'll bear for the rest of his life.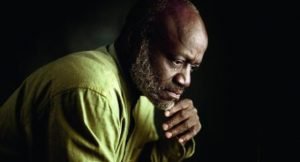 Graham was born in 1951 in Lake Providence, Louisiana, to a family of sharecroppers. When he was 10 years old, the family moved to the South Central neighborhood of Los Angeles, an economically depressed, crime-ridden area where, according to Wikipedia, 74 percent of adults over the age of 25 failed to finish high school. Graham was no exception. After years of committing petty crimes, and cycling in and out of juvenile institutions, he ended up in Soledad State Prison at the age of 18 with a life sentence for armed robbery.
Soledad is where he turned his life around. He taught himself to read and write, studied history, and got involved in the Black Prison movement, speaking out about prison conditions, and the injustices he regularly witnessed. "The breakthrough for me was reading a lot of books," Graham says. "Learning about the Black Panthers, reading about people like Malcolm X, Martin Luther King, African history. History is the way you learn about the present, what makes you the way you are now."
Because of his activism, he was transferred to Deuel Vocation Institution in Stockton, where he continued as a leader in the Black Prison movement, and took the Swahili name, Shujaa, which means "warrior" or "brave." During an uprising at the prison in November 1973, a guard was killed, and Graham and another inmate, Eugene Allen, were charged with his murder.
"You know it's hard every day sitting in a courtroom knowing you're totally innocent," Graham says. "I was framed because of my beliefs and because I was outspoken about prison conditions."
His first trial in October 1974 ended with a hung jury; in the second, in March 1976, he was found guilty and sentenced to death.
On death row, he found "It's hard to live without hope. You have to hang on to some string of hope. Some days I could do that, but some days when I went to bed, I prayed I wouldn't wake up. Think of the worst day you've ever had, and when you wake up, it's even worse than the day before."
On his automatic appeal, the state Supreme Court reversed his sentence, finding that the prosecution had deliberately excluded African-Americans from the jury. His third trial ended with another hung jury, and after his fourth trial, he was found not guilty (by another all-white jury), and released in March 1981.
"It was really hard when I first got out," Graham says. "I was angry, and I decided that I was going to commit my days to making sure that what happened to me never happens to anyone else."
He lived in San Francisco for a short time, with his partner, Phyllis Prentice, who had been a nurse in the San Francisco county jail where Graham was being held while he awaited trial, before the two of them moved to Maryland, where he started a landscaping business, and raised three children. He spends the majority of his time traveling the United States and Europe, talking about justice reform and the death penalty, and counseling youth and the formerly incarcerated. He's the vice chair of the board of Witness to Innocence, a Philadelphia-based nonprofit that works with exonerees from death row to abolish the death penalty in the U.S. by educating the public about innocence and wrongful convictions. He is a strong supporter of Proposition 62 on the ballot on Tuesday, which would repeal the death penalty in California and replace it with life without parole, and has been campaigning throughout California for it. His work is fulfilling the promise he made to himself when he was finally freed in 1981.
"When I was on death row, and I had to be escorted somewhere, the guards would come and get me and chain me up. About ten of them, escorting me down, through the general population. We'd come to this big gate, and there'd be a guard on the tower, with a rifle pointing down at me. And one of the guards would yell, 'Dead man walking,' as I walked by all those cells."
There's a long pause, and then Graham says, "Well, this dead man is still walking . . . and he's talking."