LOS ANGELES – Today's Field Poll showed Prop 62 ahead 48 percent to 37 percent, an 11-point margin with 15 percent of voters still undecided. The poll also found 55 percent of voters favor life in prison without parole over the death penalty, the highest percentage since the Field Poll began tracking the issue.
The Prop 62 campaign released the following statement:
The more voters learn about the high costs, injustices and ineffectiveness of the death penalty – and how's there's no way to fix it – the more they agree that Prop 62 is the only real solution for California's failed death penalty system. We will continue getting out our message that passing Prop 62 to replace the death penalty with life in prison without parole saves taxpayers $150 million dollars a year, provides certain justice and guarantees California never executes an innocent person. 
The Field Poll revealed bad news for Prop 66, showing the confusing, poorly written and unworkable initiative failing to gain traction with voters and sitting at just 35 percent support.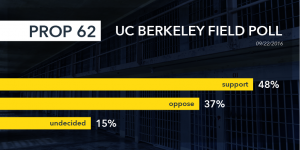 California death penalty facts
Currently, the death penalty costs 17 times as much to administer as life in prison without parole. California taxpayers have spent $5 billion since 1978 to put thirteen people to death, at a cost of $384 million per execution.
In addition to being costly, the death penalty has proven to be ineffective justice. It drags out the legal process for decades, denying closure to many victims' families. Due to its arbitrary application and other factors, the death penalty does not achieve any of its supposed crime deterring benefits according to a 2012 National Academy of Sciences study. The death penalty system has also come under criticism for racial and economic bias.
Despite lengthy appeals guaranteed by constitutional due process rights, the risk of executing an innocent person is unavoidable. DNA technology and new evidence have proven the innocence of more than 150 people on death row around the country. In California alone, 66 people had their murder convictions overturned because new evidence showed they were innocent.
###
To learn more about Prop 62, please go to www.YesOn62.com.